Founder, Edelberg + Associates
A New Year in Emergency Medicine
Founder, Edelberg + Associates
As we closed the first month of the new 2023 E/M Coding Guidelines for emergency medicine, a number of identified issues arose which will require provider attendance to documentation details on a much larger scale. We noted at some facilities a drop in the percentage of 99285's that could not be fully offset by the increase in 99283's. So, now is a great time to recap what is required for 99285!
Nature of Presenting Problem:
1 or more chronic illnesses with severe exacerbation, progression, or sides effects of treatment
Amount and/or Complexity of Data to be Reviewed and Analyzed – Extensive
(Must meet the requirements of a least 2 of 3 categories)
Category 1:  Tests, documents or independent historian(s) 
Any combination of 3 from the following:
Review of prior external note(s)from each unique source; Review of the result(s) of each unique test; Ordering of each unique test; Assessment requiring an
independent historian(s)
Or
Category 2: Independent interpretation of tests
Performed by another physician/other qualified health care professional (not separately reported);
Or
Category 3: Discussion of management or test interpretation  
Discussion of management or test interpretation with external physician/other qualified health care professional/appropriate source (not separately reported)
High risk of morbidity from additional diagnostic testing or treatment  
Examples only:
Drug therapy requiring intensive monitoring for toxicity Decision regarding elective major surgery with identified patient or procedure risk factors Decision regarding emergency major surgery Decision regarding hospitalization or escalation of hospital-level care Decision not to resuscitate or to de-escalate care because of poor prognosis Parenteral controlled substances
Documentation Tips: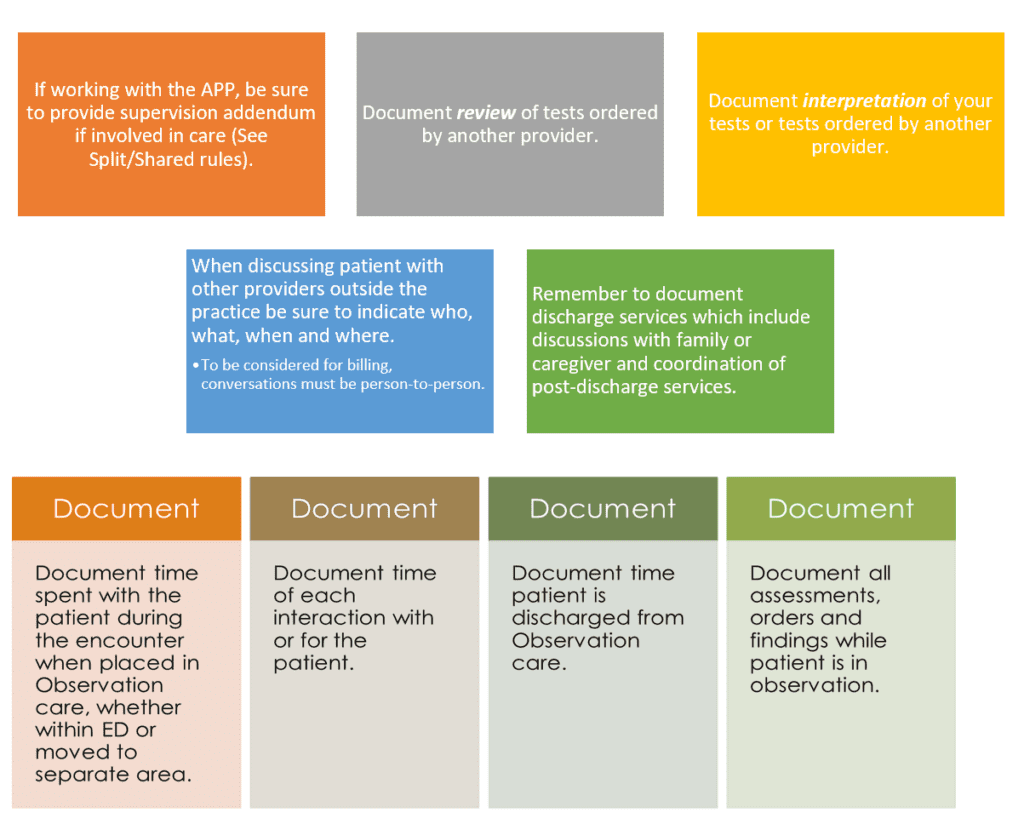 Some Documentation Take-Aways
Do document differential diagnoses from which the final diagnosis is selected; Do document any social determinants of heath that may affect your treatment, disposition, patients ongoing health, etc. Do document the details of your discussions (
interactive exchange)
with other emergency physicians.  Discussions with external physicians
(from other specialties/other practices)
should also be detailed in your documentation. Do reference any analysis (
included in the thought processes for diagnosis, evaluation, or treatment
) of a test vs. interpretation unless interpretation is coded separately. Any test or interpretation coded separately is NOT included in the E/M code level. Do provide content of any discussion with family, friends, caregivers, etc.
(
eg, parent, guardian, surrogate, spouse, witness who provides a history in addition to a history provided by the patient who is unable to provide a complete or reliable history (eg, due to developmental stage, dementia, or psychosis)
Do develop rule-out/rule-in discussion from HPI/CC/Test results. Do use adjectives to describe patient condition, reasons for additional care, etc. (
severe, significant, high risk, limited mobility, serious, altered, etc.
Do remember to document time managing patient care for critical care. Do address any additional problems you identify and discuss how they are being managed e.g. diagnostic studies, differential dx, discussion with other providers, etc. Do not reference review of tests not ordered or performed, e.g. " I have reviewed all tests and have discussed with patient and/or family." Avoid generalized or templated statements if they are not pertinent or accurate.
Posted by: Caral Edelberg on 2/8/23